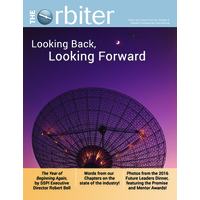 SSPI has released a new issue of The Orbiter: Looking Back, Looking Forward!
The past year was when the satellite industry learned that we have to begin again. For decades, satellite was renowned for the stability of its business performance and the evolutionary pace at which its technology changed. That's what made the industry attractive to private equity in this new century: we offered a stable stream of earnings in a business whose performance did not correlate with the business cycle of most other industries.
What a difference a year makes. At the end of December 2016, it is clear that the price per kilogram to orbit is heading downward and that transponder cost per megahertz or megabit is going the same way. Despite capacity gluts in some markets, it is clear that there will be a lot more satellites and bandwidth in orbit in coming years. The old ways have changed and every business in the industry is adapting at a furious pace, driving a wave of innovation, fear and excitement not seen for years.
I'm proud to say that the same is true of SSPI. Like our industry, we had predictable finances and changed at an evolutionary pace for years and years. Those days are gone – and our best days are still ahead. This was the year when SSPI began all over again. We have focused our work on four key missions, each supporting our goal of making satellite the most effective industry in the world at attracting and managing the talent that powers innovation.
In this issue:
The Year of Beginning Again

Looking Back, Looking Forward: Words from Our Chapters

Photo Album of the Future Leaders Dinner

Upcoming Events

Plus more!
Read the issue now:
---