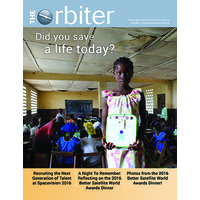 SSPI has released a new issue of The Orbiter: Did You Save a Life Today?
Did you save a life today? You probably did.
Even if you didn't, you probably made one better. You helped people reach a higher standard of living and, for people who had no future to speak of, you helped provide one.
How do I know this about you? Because you work with satellites, and those are the things that satellite technology does best.
Of course, it's not what you think about most of the working day. Depending on your job, you think about radio frequencies and throughput, payloads and launch costs, markets that are growing and markets where pricing pressure is squeezing us hard. It's what you get paid to think about and to work at – but it is not what you really do.
In this issue:
A Night to Remember

Making a Better World: The 2016 Better Satellite World Awards Dinner

Photo Album of the Better Satellite World Awards Dinner

Recruiting the Next Generation of Talent at SpaceVision

Upcoming Events

Plus more!
Read the issue now:
---