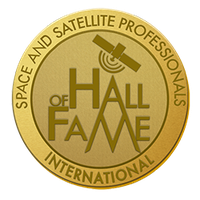 Inductees to be honored at SSPI 2023 Hall of Fame Celebration on March 14
(December 7, 2022 – New York City) – Space & Satellite Professionals International (SSPI) today opened nominations for the 22nd Induction to the Space & Satellite Hall of Fame. The new Inductees will be honored at the Hall of Fame Celebration on March 14, 2023. Nominations are due by January 9, 2023.
The Space & Satellite Hall of Fame recognizes the invaluable contributions of the visionaries who transform life on planet Earth for the better through space and satellite technology. Members of the Hall of Fame are recognized pioneers in satellite communications, earth observation, launch services, spacecraft technologies and applications, in-space operations, space law, space education and space science. They include Frank DiBello of Space Florida, Professor Bob Twiggs of Morehead State University, Steve Spengler of Intelsat and the three co-founders of Planet, Will Marshall, Robbie Schingler and Chris Boshuizen, as well as pioneers like Dr. John Pierce, Eddy Hartenstein, Dr. Gladys West, Rene Anselmo and Dr. Harold Rosen.
"Induction into the Space & Satelite Hall of Fame is the annual opportunity for SSPI's global membership to reflect on the leaders who have made transformative contributions to our industry and, through it, to the world. The Hall of Fame is about more than business success or technology innovation: it is people who have given the industry's innovation capacity a major boost and thereby accelerated economic growth, quality of life, peace, health, safety and sustainability."
Nomination forms may be found on SSPI's website.

About SSPI
Founded in 1983, Space & Satellite Professionals International (www.sspi.org) is on a mission to make the space and satellite industry one of the world's best at attracting and engaging the talent that powers innovation. With more than 3,700 members in 40 nations, it is the largest space and satellite industry association in the world. It delivers on its mission through programs that promote space and satellite as the invisible but indispensable infrastructure of the modern world, and that help turn individual promise into careers filled with purpose through research, career education for young people, management education for working professionals and talent recognition that spans the industry.

For More Information
Victoria Krisman
Communications Manager
Space & Satellite Professionals International
vkrisman@sspi.org
---