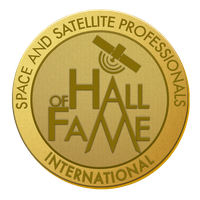 Frank DiBello, Dr. Christopher Boshuizen, Dr. William Marshall and Robbie Schingler, Steve Spengler and Prof. Robert Twiggs to be Inducted into the Space & Satellite Hall of Fame in 2022
(February 17, 2022 – New York City) – Space & Satellite Professionals International (SSPI) announced today that, on March 15, it will induct six new members into the prestigious Space & Satellite Hall of Fame.
The 2022 honorees are Frank DiBello, President and CEO of Space Florida; Dr. Christopher R. Boshuizen, Dr. William S. Marshall and Robbie Schingler, co-founders of Planet; Steve Spengler, President and CEO of Intelsat; and Prof. Robert Twiggs, Professor Emeritus at Morehead State University.
They will join the leaders who created, sustained and expanded the industry over the past 60 years, including Dr. Arthur C. Clarke, Dr. Harold Rosen, Rene Anselmo, Takuya Yoshida, David Thompson, Greg Wyler, Mary Cotton, Romain Bausch, Pradman Kaul, Sidney Topol, Gwynne Shotwell, John Celli, Giuliano Berretta, Dr. Gladys West, Mark Dankberg, James Monroe III, Steve Collar, Peter Jackson and Jean-Yves Le Gall.
The Space & Satellite Hall of Fame recognizes the invaluable contributions of the visionaries who transform life on planet Earth for the better through space and satellite technology. Members of the Hall of Fame are recognized pioneers in communications, aerospace, scientific research, or the development and delivery of space and satellite applications for business, institutions and government.
"The 2022 inductees into the Hall of Fame represent the depth and breadth of innovation in space that brings benefit to the people of Earth," said executive director Robert Bell. "Among them are engineering and business model pioneers who made possible the thousands of cubesats now in orbit and the explosive growth of Earth observation they enabled. They include business leaders who rebuilt storied companies for a new era of competitive growth and tapped the potential of space for local economic growth. These are the critical stories of our industry in the second decade of the century."
The latest members of the Space & Satellite Hall of Fame will be inducted during the 2022 online Hall of Fame Ceremony on March 15 and honored in-person at the live 2022 Hall of Fame Celebration on March 22 during SATELLITE, hosted by K&L Gates. The inductees were selected by SSPI's Board of Directors under the leadership of SSPI Chair Nicole Robinson, President of Ursa Space Systems, and of SSPI President Katherine Gizinski, Chief Executive Officer of Mansat.

The 2022 Space & Satellite Hall of Fame Inductees:
Frank DiBello
President and CEO, Space Florida
Over a 50-year career in the business of space, Frank DiBello has served in a wide variety of roles, all of them dedicated to guiding and strengthening the aerospace industry in America. In his 13 years with Space Florida – an Independent Special District of the State of Florida – he was instrumental in the state's recovery from the retirement of the Space Shuttle in 2011 and its subsequent rise to even greater heights as the thriving commercial space operations and manufacturing cluster it is today. Frank's leadership and contributions to the advancement of the aerospace industry in Florida have positioned the state as the clear leader in a rapidly transforming US aerospace market, which has set an example to many other states, including New Mexico, Virginia, Alaska, Texas and Georgia, that seek to tap the economic potential of space.
Dr. Christopher Boshuizen, Dr. William Marshall and Robbie Schingler
Co-Founders, Planet Labs PBC
Planet was founded in 2010 as Cosmogia by former NASA scientists Dr. Christopher R. Boshuizen, Dr. William S. Marshall, and Robbie Schingler. Their goal was to make use of information gathered from space to help with life on Earth – specifically, to see global change with enough frequency and detail to spur deeper understanding and more action on climate change. Over the past decade, Planet has revolutionized the Earth observation industry, democratizing access to satellite data beyond the traditional agriculture and defense sectors. Since its founding, Planet has launched over 500 satellites, and currently operates roughly 200 in orbit today. Together, they image the entire planet every day, a revisit rate never before achieved. Businesses, governments, and research institutions now leverage Planet's data and platform to scale their operations, increase efficiency and mitigate risk, and develop novel solutions to address our most pressing challenges.
Steve Spengler
President and CEO, Intelsat
Over a 36-year career in the space and satellite industry, Steve Spengler has dedicated himself to providing critical services to places in the world and people on the move where other telecommunications technologies cannot reach. He joined Intelsat in 2003 and served in a variety of executive roles, including sales, marketing, strategy and business development. Appointed CEO in 2015, he assumed leadership at a major inflection point for the world's first satellite company. He oversaw the 2016 launch of the first satellite in the global Epic fleet that brought high-throughput architecture to C-, Ku- and Ka-bands, vastly increasing Intelsat's capacity to meet exploding needs for satellite data. Through strategic investments and alliances, he expanded the company into flat panel antenna technology, LEO communications, in-flight broadband and other verticals. After years of fighting the mobile industry over access to spectrum, he changed course and proposed the sale of C-band frequencies to mobile carriers, igniting a complex regulatory and political process that led to the current C-band repack in the US. His final act before announcing his retirement was the emergence of Intelsat from Chapter 11 bankruptcy as a newly capitalized company that had shed a substantial portion of the debt heaped on it by former private equity owners and is prepared for its next wave of growth.
Prof. Robert Twiggs
Emeritus Professor – Astronautics at Morehead State University
Prof. Robert Twiggs is best known in the space and satellite industry and academia as the "Father of the CubeSat" for his co-development of the CubeSat reference design and P-Pod Deployer for miniaturized satellites at Stanford University, alongside Professor Jordi Puig-Suari of California Polytechnic University at San Luis Obispo. His design has become the de-facto industry standard for Pico satellites since its development in 1998, with over 1,600 successful launches to this day. Prof. Twiggs has also developed and co-developed other original concepts, including the CricketSat, CanSat, ThinSat and the PocketQube for educational applications in space.
Full profiles of the 2022 inductees to the Space & Satellite Hall of Fame will be available shortly on SSPI's website.

About SSPI
Founded in 1983, Space & Satellite Professionals International (www.sspi.org) is on a mission to make the space and satellite industry one of the world's best at attracting and engaging the talent that powers innovation. The space and satellite business has never seen a time of greater experimentation and disruption than we see today. Investment is the fuel for transformation, but people are the engine. SSPI helps the industry attract, develop and retain the talented people it needs to keep the engine turning. People who connect through high-profile events and gain recognition from prestigious awards. People who rely on SSPI for a broader understanding of the industry as much as for individual networking and career mentoring. From young people seeking a career path to industry veterans with wisdom to share, SSPI connects them all.
Talent, investment and opportunity flow to industries that make a difference. SSPI is the only organization that also promotes the enormous value of space and satellite through dramatic stories of our technologies and companies making a better world. Those stories overturn misconceptions about the industry that hold it back. They inspire our people and attract new ones to the industry. They help justify investment and give new customers a reason to care about our services and products. Through the stories we tell and the people we serve, SSPI inspires the growth of the $1 trillion space economy of the future.

For More Information
Victoria Krisman
Communications Manager
Space & Satellite Professionals International
vkrisman@sspi.org
---