What Has a Satellite Done for You Lately?

This entertaining whiteboard animation made its debut on March 17 at the invitation-only Chairman's Reception prior to the 2015 Gala Benefit Dinner.  Since then, SSPI has been deluged with requests to link to it, use it in social media, repurpose it on Web sites and translate the audio track into multiple languages.  Our thanks to ManSat and Microspace Communications for funding this project.  
Help Spread the Word
We encourage individuals, organizations and companies to use "What Has a Satellite Done For You Lately" to promote satellite, your organization's work and your company's services and products. It's a light-hearted way to break the ice while delivering a serious message about the immense value our technology delivers to the world. 
Have a Story of Your Own to Contribute?
The Better Satellite World campaign uses stories to communicate the contributions of satellite to the modern world.  We start with case studies submitted by SSPI sponsors and add facts, opinions and commentary to tell the human side of the satellite story.  Send your case study by email to makingthecase@sspi.org and we will evaluate it for the campaign.
Better Satellite World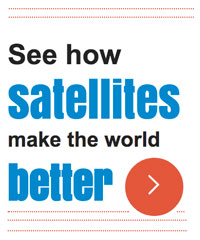 Read stories about how Satellites make the world better at BetterSatelliteWorld.com