Webinar: Disruptors in the Talent Market
Date: September 22, 2016
Time: 12:00 pm - 1:00 pm EST
As new and disruptive companies enter the satellite and space business, they are having a big impact on business as usual. That applies not just to business models but also the market for talent. Whether it is SpaceX in launch or OneWeb in broadband, the "rock star" companies exert a gravitational pull on talent.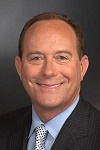 How are the new entrants similar to and different from incumbents in their approach to employees? How are they approaching talent acquisition and management? And what does it mean for the industry at large? 
In this webinar, you will hear from Korn Ferry's sector leader for satellites and space, Clarke Havener, on the changing talent market, and receive a briefing on the conclusions of SSPI's second annual workforce study, which is available free to SSPI members and sponsors. 
Missed the webinar? Watch it below:
Made Possible By