Membership
SSPI offers Professional Memberships, as well as Student Memberships, to individuals working in or interested in pursuing a career in satellite research, construction, launch and operations. Professionals working in satellite communications, including both space segment and ground segment, form the single largest sector of our membership. But the Society also welcomes people pursuing careers in satellite-based imaging, GPS, space sciences, education, and other fields. 
Some of the best-known names in the industry are long-time members of SSPI, including:
James Van Allen, for whom the "Van Allen Belt" is named
Sir Arthur C. Clarke, author and the first person to suggest the concept of geostationary satellites
Eddy Hartenstein, co-founder and long-time CEO of DIRECTV
Peter Marshall, former CEO, Keystone Communications
John Puente, former Chairman & CEO of Orion Satellite Corporation and one of the developers of the demand assignment system
Benefits of Membership
Access to a 4,000-strong professional network reaching every sector of the business in more than 40 countries.
Participation in local chapters and affiliates, including regular meetings and social events that connect you face-to-face with colleagues.
Discounts on registration for conferences and tickets to SSPI social and networking events including the Gala and the Future Leaders Dinner.
The right to nominate individuals and companies for the Satellite Hall of Fame and the Industry Innovator and Promise & Mentor Awards.
Cost
Individual memberships for satellite professionals cost US$100 per year.  The employees of Corporate Sponsors are eligible for free membership when they register under the name of their employer.  See below for instructions.
Student Memberships are available at no cost to graduate and undergraduate students, as well as high school seniors, for a period ending with the student's graduation date.
How to Join
Individuals. Sign up online for individual membership for only US$100 per year - or free for graduate and undergraduate students or high school seniors. You will be asked to choose a chapter, or provided the opportunity to join as an "At-Large" member without a chapter.
Corporate Sponsor Employees. Employees of SSPI Corporate Sponsors are entitled to free membership in the society. If you are employed by an SSPI Corporate Sponsor, click here for assistance in registering as a Member.
Mail or Fax. Open a membership application in Adobe PDF format, print and complete it, and return it by fax with credit card information or by mail with a check or money order in US dollars.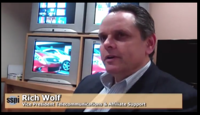 Why has Rich Wolf, former Vice President of Telecommunications & Distribution for ABC, been an SSPI Board member, 
president and chairman?  Find out! 
Member Search
SSPI members can log in and search our directory of nearly 4,000 satelite professionals around the world.