Julia Josephine Gull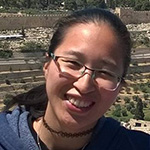 Julia received her LL.B. Honours degree at Amsterdam University of Applied Sciences in the Netherlands and is currently pursuing an LL.M in Space, Satcom and Media Law at Tel Aviv University in Israel. Before attending Tel Aviv University, she spent six months as a trainee at the law department of the city of Zeist. While at TAU, she has been an active participant in a seminar on Law & Technology, which focuses on intellectual property and cyberlaw. Julia has proposed and is currently working on a paper on 'legality of the zero day market' as part of the seminar. She has also participated in a workshop on law and technology, which hosts leading scholars from various fields and disciplines who discuss their works in progress. Julia's scholarship from SSPI will help her attend the International Space University.
Julia received a scholarship from SSPI in 2016.