European Satellite Professionals Association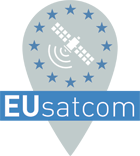 The European Professional Satellite Association (EUsatcom), in association with SSPI, helps  satellite professionals and companies keep up to date with the latest developments in the European satellite industry and offers a platform for professional and business networking.  It organizes conferences and award programs that bring professionals together for knowledge sharing and the development of personal connection.
SSPI members are eligible to receive a free membership in EUsatcom, and EUsatcom members can receive free SSPI membership.  Contact the EUsatcom Secretariat or SSPI Membership Director for assistance.