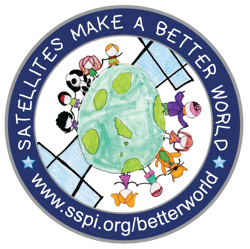 Help support the Better Satellite World campaign by displaying the campaign logo and linking to our text stories and videos (or embedding them from YouTube on your site). Everything you need is on this page.

Campaign Logo
Download the campaign logo in the size and format you need.
PNG
300 dpi
[2.45 MB]

JPG
300 dpi
[3.52 MB]

GIF
72 dpi
[65.4 KB]

EPS
300 dpi
[10.8 MB]
Magnetic buttons featuring the campaign logo are also available for purchase. Visit the SSPI Member Store or SSPI Non-Member Store to purchase the buttons. Proceeds from the button sales will go towards supporting the campaign.

SSPI Logo
We encourage you to pair the SSPI logo with the campaign logo, particularly in print applications.  The Graphics Standards sheet offers suggested layouts.
PNG
300 dpi
[251 KB]

JPG
300 dpi
[707 KB]

GIF
72 dpi
[34.5 KB]

EPS
300 dpi
[3.92 MB]
Graphic Standards
Download our brief graphic standards manual. 
Briefing Book
Download our Better Satellite World briefing book, a .pdf file containing all of the stories.
 
Endorse the Campaign
It's a no-cost way to help SSPI communicate how essential satellite is to the modern world. Download our Endorsement Kit. 

Use Our Videos
All of our videos are available in the Videos section of our Web site as well as on YouTube. You may -
Link to the Web site page by copying the address line in your brower.
Click on the YouTube link at the bottom of the video. This will take you to YouTube, where you can use their tools to embed a video in your own site. 
We can also provide, upon request, a link allowing you to download a high-resolution version of the video for use in live presentations. Click here to make your request and be sure to indicate which video you are interested in. 
 
Sponsor a Video
One of the Better Satellite World Videos can carry your company's brand and associate your services and products with satellite's contributions to human life, economic growth and the health of the planet. Click here to see our sponsorship offering.