Climate Sense Campaign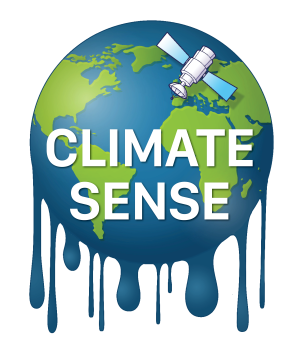 Climate change is not a problem for tomorrow. It is happening before our eyes, whatever we think of its causes. To solve that problem, we must first understand it. And that is where satellite makes the critical difference. It is the only technology that provides perspective on the entire planet, from trends affecting entire oceans to changes in one square kilometer of land. Over six consecutive weeks, we will examine critical climate challenges and the satellite technologies and services that can deepen our understanding and point the way to solutions.

MORE
Podcast
Every Monday during the Climate Sense campaign, you'll get to listen to a new podcast in the This Planet's on Fire series, featuring experts on a wide variety of climate topics.
This Planet's on Fire, Episode 3: Agriculture – How at Risk Are We?
In this third episode of This Planet's on Fire, we hear from Wade Barnes, co-founder and CEO of Farmers Edge; Prateep Basu, CEO of SatSure (a Better Satellite World Award recipient in 2020); and Sanjay Wagle, co-founder and Managing Director of The Lightsmith Group. Wade, Prateep and Sanjay join SSPI's Lou Zacharilla to talk about the major risks in agriculture today, business models and innovations that use satellite-based information to transform agricultural practices and the impacts of climate change on agriculture and investment. The podcast series is sponsored by SatSure.
Climate Sense NOW
New York Space Business Roundtable: Satellites Boosting Sustainable Technologies
The New York Space Business Roundtable contributes to SSPI's ongoing, multi-platform series Climate Sense by inquiring if there is a meaningful business case for sustainable technologies in space and satellite. Speakers include: Paul Gloyer, President, Gloyer-Taylor Labs LLC; Douglas Helmuth, Remote Sensing Scientist and Former Principal Investigator, Lockheed Martin SSC; and Sanjay J. Wagle, Managing Director, The Lightsmith Group.
Videos
The Better Satellite World campaign shows the world why our industry, though often invisible, is indispensable to modern life, through powerful stories and videos that depict space and satellite technologies contributing to the economy, society and sustainability of planet Earth. Several of our Better Satellite World videos focus on the topic of climate and how the satellite industry is mustering to provide vital data in an ever-changing world.