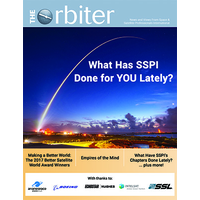 SSPI has released a new issue of The Orbiter: What Has SSPI Done for You Lately?
We kicked off the Better Satellite World campaign two and a half years ago with a video called "What Has a Satellite Done for You Lately?" It is still one of the most popular in our BSW series, which now runs to 19 videos and text stories.
"What have you done for me?" is always a good question and, here at year's end, I thought it was worth answering. What has SSPI done for you this year, whether you are a sponsor, a member or a volunteer who donates time to a chapter or a program? The contributions of cash, care and knowledge all have value, and we are grateful for every single one.
In this issue:
Making a Better World: The 2017 Better Satellite World Award Winners

Empires of the Mind

Purdue University Team Wins Research Competition for Second Year in a Row, Tying with the University of Puerto Rico Mayaguez

What Have SSPI's Chapters Done Lately?

Plus more!
Read the issue now:
---