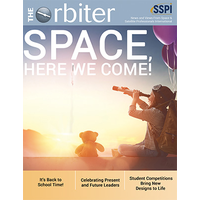 SSPI has released a new issue of The Orbiter: Space, Here We Come!
If you live in the northern hemisphere, you may already be seeing the first signs of autumn. A few leaves tumble by you on the street. The sun, which rose before your alarm clock all summer, is now getting up after you do. The kids call it back-to-school time, which is a great time to talk about what the next generation means to this industry.
The next generation cares about making a living but they care almost as much about making a difference. Our aim is to target the academic centers of excellence for space and satellite studies and make sure their best and brightest can find their way to us. We also work to give them a reason why. Your support and personal participation make all this possible.
In this issue:
Celebrating Present and Future Leaders

The Next Generation Heads Back to School with Your Help

Student Competitions Bring New Designs to Life

Meet the Next Generation of Talent at SpaceVision

Plus more!
Read the issue now:
---