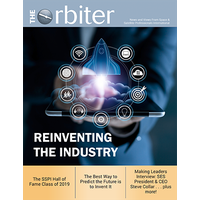 SSPI has released a new issue of The Orbiter: Reinventing the Industry!
This business was once one for patient capital seeking a good long-term return. Patience no longer seems to be much of a virtue. Never before in the history of business in space has so much money been gambled on so many sectors and business models at one time. According to the latest numbers I have seen, the sector has attracted $17.8 billion in new venture investment since 2000 – not including government and export credit financing – and more than $7 billion in 2017-18 alone.
For those of us who are not investors seeking return or entrepreneurs seeking investment, what does it mean? The disruptions are already becoming sharp: from the decline of satellite-based pay TV subscriptions in major markets to price erosion for satellite capacity and the blooming fields of data extracted from earth observation. Established companies in fleet operations, satellite services and technology are evolving fast, because what was in investors' minds a few years ago is remaking their world.
The reinvention of the industry is taking place too fast. It is also taking place too slowly. New business models still have to prove their resilience. Established companies have to prove their ability to adapt. In that situation, patience is still a virtue.
In this issue:
The SSPI Hall of Fame Class of 2019

The Best Way to Predict the Future is to Invent It

Making Leaders Interview: Steve Collar, President & CEO, SES

Interview with Jason Rainbow, Group Editor-in-Chief, Finance Information Group

Plus more!
Read the issue now:
---