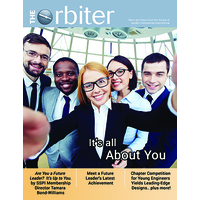 SSPI has released a new issue of The Orbiter: It's All About You
Despite what they told you when you became an adult, it really is all about you.
But here's the thing. The "you" it was all about when you were a child is not the same as the "you" of today. This year's "you" is a much bigger deal. "You" has expanded to encompass the network of colleagues and friends you have built during your career and your life. It contains the people, older than you, who advised you and guided your steps. It also includes the people who will follow you, the ones who you are now advising and guiding.
If you have lived at all, with each passing year, "you" has increasingly become "us." That is why SSPI is all about you.
In this issue:
Are You a Future Leader? It's Up to You

Meet a Future Leader's Latest Achievement

Chapter Competition for Young Engineers Yields Leading-Edge Designs

Learning How Top Companies Manage their Most Talented People

Plus more!
Read the issue now:
---