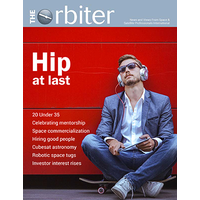 SSPI has released a new issue of The Orbiter: Hip at Last!
SSPI was born thirty-five years ago in a bar in Denver, Colorado. We used to put on black-tie events. Now, SSPI is hip at last.
Our Future Leaders Dinner at Satellite Innovation was 50% bigger than the previous year in New York. Our Promise Award winners came from SpaceX and Planet, as well as from SSL in Palo Alto, which has seven previous winners to its credit. We also announced our first annual list of the 20 Under 35 people in space and satellite to watch.
On November 1, we partner with Hogan Lovells, the New York Space Alliance and the advertising agency Ogilvy to host Astropreneurship Day in New York. From there, it's off to London for the Better Satellite World Awards Dinner, where we salute organizations and individuals for making our planet a better home for humanity through the use of space and satellite technology.
Okay, we still wear jackets. We have not yet added ragged cut-offs or flip-flops to our ensemble. But for a 35-year-old, SSPI is seriously cool.
In this issue:
The 20 Under 35 to Watch: Featuring the 2018 Promise Award Winners

Celebrating Mentorship: Randy Segal, the 2018 Mentor of the Year

Is There Anyone ELSE Up There??

Hire Good People, Value Them – and Tell Them That You Value Them

Plus more!
Read the issue now:
---