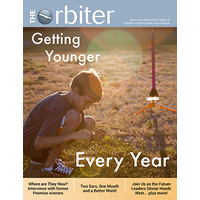 SSPI has released a new issue of The Orbiter: Getting Younger Every Year!
Whether it is SATELLITE in Washington, SmallSat in Silicon Valley, CommunicAsia in Singapore or Global VSAT in London, the age of attendees seems to be declining. That is the sign of an industry that is doing the opposite of declining – one that is tackling big new challenges, breaking with established ways and welcoming new ways of thinking.
The change is visible in SSPI's leadership. Seven years ago, almost 90 percent of SSPI's Board of Directors represented the long-time incumbents of our industry. This year, one-third of our Directors represent companies that are shaking up the old ways, from SpaceX and Kymeta to Planet and OneWeb. Others work for industry stalwarts, from ViaSat to SSL, that have become market disruptors in their own right.
One day, we might even be considered hip.
In this issue:
Where are They Now? Interviews with former Promise winners

Two Ears, One Mouth and a Better World

Space Cadets – and Proud of It

Join Us as the Future Leaders Dinner Heads West

Plus more!
Read the issue now:
---