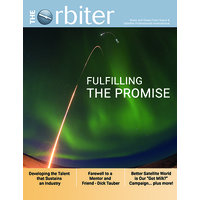 SSPI has released a new issue of The Orbiter: Fulfilling the Promise!
At its recent meeting, our chairman David Myers asked Board members to say in a few words why each of them had chosen to serve SSPI. The near-unanimous verdict: they believed strongly in our mission to attract, recognize and nurture talent. That is more than idealism at work: it is good business sense. McKinsey & Company has compared the growth of 700 companies with independent performance appraisals of their executives. The company found that leadership quality is critical to growth – but that most companies don't have enough high-quality executives. Companies with a critical mass of executives who got excellent performance appraisals recorded superior growth consistently, both organically and through acquisitions. The more complex and fast-changing the business – and who could find a better description of the space and satellite industry? – the higher the skill level required for success.
In this issue:
SSPI at 35: Developing the Talent that Sustains an Industry

Farewell to a Mentor and Friend - Dick Tauber

Better Satellite World is Our "Got Milk?" Campaign

Plus more!
Read the issue now:
---