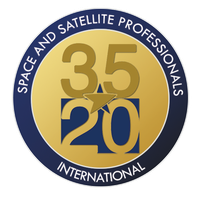 (New York City, May 13, 2021) – Space & Satellite Professionals International (SSPI) today opened nominations for the "20 Under 35" cohort of 2021. The "20 Under 35" will be honored at the annual Future Leaders Celebration in October during Satellite Innovation 2021. Nominations are due by July 9, 2021.
Every year, during its Future Leaders Celebration, SSPI honors its list of the "20 Under 35" young space and satellite professionals to watch in the years ahead. "20 Under 35" honorees are employees or entrepreneurs under the age of 35 who have demonstrated initiative, creativity and problem-solving skills that created new capabilities, overcame major challenges, and ensured excellence in technology and service.
The "20 Under 35" are selected by a panel of judges based on scoring of nomination forms. At the Future Leaders Celebration, SSPI will unveil the list of the "20 Under 35" and present the three top-scoring honorees with its Promise Award in recognition of their potential to advance into leadership roles in the industry. On the same evening, SSPI will also honor its Mentor of the Year: a space and satellite executive who has devoted time and energy to fostering the next generation of industry employees and entrepreneurs.
"SSPI has been honoring emerging leaders of this industry and the mentors who guide them since 2006," said executive director Robert Bell. "The current president of SSPI's Board, Nicole Robinson, was honored in 2012. She is now CEO of Ursa Space, an industry-leading innovator in space data analytics that was founded by a 2011 honoree, Adam Maher. Data scientist Zack Downey of Ursa Space is a 2018 honoree. So, when it comes to spotting talent, I'd say our judges are doing quite a job."
Nomination forms are available on SSPI's website.

About SSPI
Founded in 1983, Space & Satellite Professionals International (www.sspi.org) is on a mission to make the space and satellite industry one of the world's best at attracting and engaging the talent that powers innovation. The space and satellite business has never seen a time of greater experimentation and disruption than we see today. Investment is the fuel for transformation, but people are the engine. SSPI helps the industry attract, develop and retain the talented people it needs to keep the engine turning. People who connect through high-profile events and gain recognition from prestigious awards. People who rely on SSPI for a broader understanding of the industry as much as for individual networking and career mentoring. From young people seeking a career path to industry veterans with wisdom to share, SSPI connects them all.
Talent, investment and opportunity flow to industries that make a difference. SSPI is the only organization that also promotes the enormous value of space and satellite through dramatic stories of our technologies and companies making a better world. Those stories overturn misconceptions about the industry that hold it back. They inspire our people and attract new ones to the industry. They help justify investment and give new customers a reason to care about our services and products. Through the stories we tell and the people we serve, SSPI inspires the growth of the $1 trillion space economy of the future.

For More Information
Victoria Krisman
Communications Associate
Space & Satellite Professionals International
vkrisman@sspi.org
---