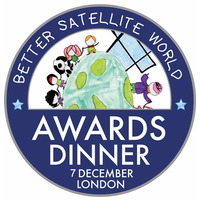 (New York City, 1 June 2020) – Space & Satellite Professionals International (SSPI) today opened nominations for the 2020 Better Satellite World Awards. The winners will be honoured at the Better Satellite World Awards Dinner on 7 December in London. Nominations are due by 14 September 2020.
Every year, during the Better Satellite World Awards Dinner, SSPI honours three organizations or individuals who have demonstrated the use of satellite to make a significant contribution to human welfare, good governance, safety, peace and security, improved education or other measures of human achievement. The Better Satellite World Awards are produced by SSPI and its UK and Isle of Man Chapters. Click here to learn more about the awards and past winners.
"The space and satellite industry has had an historic year and has been central to the history being made in 2020," said SSPI Director of Development and Innovation Louis Zacharilla. "As always, our industry has assisted many industries as well as the public sectors in their attempt to keep civil society healthy, communicating properly and focused on a better world ahead. We look forward to seeing who our Jury and SSPI's UK Chapter selects as their stellar representatives for one of our more turbulent years."
Nomination forms are available on SSPI's website.

About SSPI
Founded in 1983, Space & Satellite Professionals International (www.sspi.org) is on a mission to make the space and satellite industry one of the world's best at attracting and engaging the talent that powers innovation. With more than 3,700 members in 40 nations, it is the largest space and satellite industry association in the world. It delivers on its mission through programs that promote space and satellite as the invisible but indispensable infrastructure of the modern world, and that help turn individual promise into careers filled with purpose through research, career education for young people, management education for working professionals and talent recognition that spans the industry.

For More Information
Victoria Krisman
Communications Manager
Space & Satellite Professionals International
vkrisman@sspi.org
---