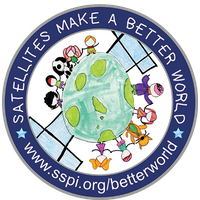 (25 October 2018 – New York City & London) – Space & Satellite Professionals International (SSPI) announced today the recipients of the fourth annual Better Satellite World Awards. The awards, established in support of the industry's global awareness campaign, honor established companies along with disruptive innovators who make the world a more prosperous, healthier, better-educated, sustainable and inclusive home for humankind. An international jury selected Crisis Connectivity Charter, DARA (Development in Africa with Radio Astronomy), supported by Goonhilly Earth Station Ltd. and Kacific Broadband Satellites International to receive this year's awards. The recipients will be honored at the Better Satellite World Awards Dinner on 3 December at London's One Whitehall Place.
"The modern world literally runs on satellite technology," said executive director Robert Bell, "though few of the world's people know it. With this year's recipients, we honor organizations using satellite to spread economic opportunity and improve resilience in the face of adversity. Their work – little known to the world – is making that world a better, safer and more equitable place."
The international trade media has partnered with SSPI on the Better Satellite World campaign to further promote the constant stream of stories produced by SSPI and its partners throughout the year.
The selection of the recipients for the Better Satellite World Awards was made by an international jury consisting of a broad cross-section of industry thought leaders and distinguished professionals. This year, the jury decided to extend an honorable mention to:
Globecomm Hurricane Response for providing engineers, communication lines and equipment throughout the Caribbean during the three hurricanes of 2017
Mars Balloon, supported by THALES and Thales Alenia Space for providing UK schoolchildren with high-altitude balloons capable of mimicking conditions on Mars for their scientific learning experiments
Newtec/Intelsat Project Indigo for providing reliable, affordable broadband in rural Columbia
The jury also chose to extend a special humanitarian recognition to Speedcast for its implementation of a high-speed satellite link to restore connections for nearly 2,000 residents of Christmas Island who had been cut off from all communications to the mainland.
The Better Satellite World Awards Dinner in London is produced by SSPI and its UK and Isle of Man Chapters, with the support of international law firm Milbank as well as Globecomm, ManSat, Phasor and Walton De-Ice.
The Better Satellite World Award Recipients:
Crisis Connectivity Charter
The Crisis Connectivity Charter is a mechanism created between the satellite industry and the wider humanitarian community, which is designed to make satellite-based communications more readily available to humanitarians and affected communities thanks to pre-defined and pre-set solutions allowing immediate response at times of disaster.
The Charter was developed by the EMEA Satellite Operator's Association (ESOA) and the Global VSAT Forum (GVF) and their members, in coordination with the UN Office for the Coordination of Humanitarian Affairs (OCHA) and the Emergency Telecommunications Cluster (ETC), led by the World Food Programme (WFP). When activated by the ETC, the Charter aims to foster more efficient cooperation between the satellite industry, local governments, non-government organizations (NGOs) and the broader humanitarian community in the initial stages of a disaster, allowing for better communication planning, increased connectivity and support for emergency responses.
The Charter helps support increased coordination by prioritizing access to bandwidth for humanitarian purposes during disaster responses and by allocating pre-positioned satellite equipment and transmission capacity in high-risk countries; and provides training and capacity building for the humanitarian community around the world. The Crisis Connectivity Charter will help ensure the ETC and its partners can better leverage satellite-based technology to provide life-saving connectivity to humanitarians and affected populations when disaster strikes.
DARA (Development in Africa with Radio Astronomy)
The DARA project (Development in Africa with Radio Astronomy) is led by the University of Leeds School of Physics and Astronomy and supported by Goonhilly Earth Station Ltd. as an industry partner, as well as partners including the South African Radio Astronomy Observatory, the South African National Space Agency and the Universities of Hertfordshire, Manchester, Oxford, Bristol and Central Lancashire. The project aims to develop high tech skills through training in radio astronomy in a number of African countries: Botswana, Ghana, Kenya, Madagascar, Mauritius, Mozambique, Namibia and Zambia. University of Leeds Professor Melvin Hoare spearheaded the program in 2015 with funding from the Newton Fund, which uses the UK's Overseas Development Assistance budget for scientific collaboration with developing countries. Since its founding, the DARA project has trained 140 students in partner African countries with another 120 set to be trained in coming years.
The DARA project seeks to empower local students to take ownership of their nations' future rather than providing Western experts to directly drive economic growth. The programme provides four weeks of academic training to ten students each year, covering a variety of subjects including computing, data science, business development and best practices and networking. Entrepreneurs from Goonhilly have joined academics in this teaching programme to provide students with a diverse array of experiences and expertise so that they leave the programme with the practical skills required to start their own business endeavors. For example, one student from Zambia used the knowledge and skills he gained from the DARA training program to start his own consulting firm with other graduates to provide environmental project briefs for large businesses in the region. The DARA project is also providing funding for a dozen African students to go through Masters and PhD programs in the UK, after which they will return to their homelands to put their new skills into use driving commercial growth and hopefully passing on knowledge to the next generation.
Kacific Broadband Satellites International
Kacific is a next-generation broadband satellite operator delivering broadband to the Pacific and Southeast Asia, providing in many areas, affordable capacity for the first time. The company has built a digital platform and management ecosystem to provide satellite internet even to the most dispersed rural populations, allowing local service providers, telecom infrastructure providers, tourism industry leaders, local governments, regional aid programs and local companies to improve their operations and offer more services. Working through local partners, Kacific currently provides services in Fiji, East Timor, Papua New Guinea, Indonesia, the Solomon Islands, Kiribati, Vanuatu, Tonga, Niue, Samoa, American Samoa and Tuvalu. Kacific-1, a new High Throughput Satellite nearing completion at Boeing, is a large payload embarked on a satellite platform shared between Kacific and Sky Perfect JSAT. When launched, the satellite will shortly be bringing significantly more capacity to these areas and is expected to be completed in the third quarter of 2019. In advance of Kacific-1's deployment, Kacific has begun service to their customers through leasing deals using existing satellite capacity in the Asia Pacific region. Once it is deployed, the company also intends to use Kacific-1 to expand its market to Nepal, Bangladesh, India, Bhutan, Myanmar, the Philippines, Malaysia, Brunei, Micronesia, the Cook Islands, French Polynesia and New Caledonia by the end of 2019.
Kacific's platform helps connect hospitals, clinics, schools, libraries, post offices, police stations and many other public institutions in rural areas where terrestrial broadband infrastructure is not an option. The company offers inexpensive, small and easy-to-maintain ground equipment and high-speed internet at wholesale prices to local service providers throughout the region, making such providers into partners and stakeholders in their areas' futures. Connectivity in developing areas fosters better education and healthcare outcomes. Students in rural areas can now access more information and resources online, as well as build their own IT skills to make sure they keep pace with the evolving demands in tertiary education and the job market. High-speed broadband access provides rural and extra-urban medical facilities with critical information and communication capacities for emergency situations, using medical databases, logistics tools and live remote access to specialist doctors, allowing them to save more lives and maintain a better standard of healthcare overall. In a recent example, Kacific's connectivity services, the only high-speed internet access available in the area, were used to coordinate a 10,000-person evacuation from Ambae Island in Vanuatu due to volcanic activity.
About the Better Satellite World Campaign
Working with partner associations and dozens of supporting companies around the world, Space & Satellite Professionals International's Better Satellite World campaign (www.bettersatelliteworld.com) is changing the global conversation about satellites and their influence on the economy, business and societies everywhere. The campaign was launched in Washington, DC during SATELLITE 2015. It has since become a cornerstone and a viral effort that is successfully communicating the incredible power of satellites for human good.
SSPI has published a series of stories and videos that dramatize the immense contributions of the "invisible infrastructure" of satellite to life on Earth, which are widely shared by individuals, companies and the media. The Better Satellite World campaign is available for repurposing by any organization or person who wishes to use the content to help promote the industry at www.bettersatelliteworld.com and through the Twitter hashtag #bettersatelliteworld.
About SSPI
Founded in 1983, Space & Satellite Professionals International ( www.sspi.org) is on a mission to make the space and satellite industry one of the world's best at attracting and engaging the talent that powers innovation. With more than 3,700 members in 40 nations, it is the largest space and satellite industry association in the world. It delivers on its mission through programs that promote space and satellite as the invisible but indispensable infrastructure of the modern world, and that help turn individual promise into careers filled with purpose through research, career education for young people, management education for working professionals and talent recognition that spans the industry.
For More Information
Matthew Owen
Communications Manager
212-809-5199 x105
mowen@sspi.org
---