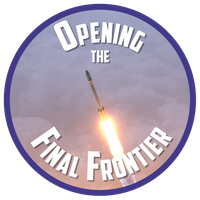 (October 24, 2022 – New York City) – Space & Satellite Professionals International (SSPI) today announced the beginning of Opening the Final Frontier, a multi-week campaign featuring videos, podcasts, live online conversations and a new issue of SSPI's digital magazine, The Orbiter. The campaign explores how enterprising companies in partnership with governments are putting into place the practical foundations and critical components of a thriving space economy reaching from LEO to cislunar space and beyond. Opening the Final Frontier is underwritten by Virgin Orbit.
The campaign begins today with a podcast interview with Virgin Orbit COO Tony Gingiss, made possible with support from Momentus Space. SSPI will feature videos on launch and orbital debris management in SSPI's Better Satellite World series as well as several from Virgin Orbit on the same day. New content will be published weekly at www.sspi.org/cpages/opening-the-final-frontier.

About Opening the Final Frontier
Space really is the final frontier. Since Star Trek first crossed TV screens in 1966, we have believed that humanity's destiny lies among the stars. And in the third decade of the third millennium, we are closer to that dream than ever before. Today, after decades of imagining the future, enterprising companies in partnership with governments are putting into place the practical foundations and critical components of a thriving space economy reaching from LEO to cislunar space:
Drastically lower launch costs coupled with an accelerating cadence of launches.

Horizontal launch systems that make access to space available to any nation with international airports.

A boom in launch sites as national and local governments trigger economic development of spaceports for vertical and horizontal launch.

Inter-satellite communications capabilities with the potential to turn satcom in LEO, MEO and GEO into a global mesh network offering massive bandwidth.

In-space operations vehicles, fuel depots and manufacturing facilities that, still in their earliest stages, are creating completely new capabilities with commercial value.
Continued progress depends on finding solutions to the human-made problem of space debris. It is a challenge to policy as much as to technology, and to our ability to cooperate as well as compete. But here, too, companies and governments are creating more effective ways to monitor debris of all sizes, to agree on avoidance maneuvering and enforce de-orbiting protocols, and to develop fast and flexible systems to target the most dangerous debris and remove it from orbit. The same innovation that gradually created the space debris problem also offers the best hope of resolving it to keep open the roads to the final frontier.
"Our multi-week online campaigns are focusing interest on the mega-issues impacting our industry and the world," said executive director Robert Bell. "Opening the Final Frontier continues the online conversation started with Climate Sense and Untangling the Supply Chain earlier this year. After decades as an almost-invisible niche industry, space and satellite are now on the agenda of government and business leaders around the world."
You can learn more about the Opening the Final Frontier campaign on SSPI's website.

About SSPI
Founded in 1983, Space & Satellite Professionals International (www.sspi.org) is on a mission to make the space and satellite industry one of the world's best at attracting and engaging the talent that powers innovation. The space and satellite business has never seen a time of greater experimentation and disruption than we see today. Investment is the fuel for transformation, but people are the engine. SSPI helps the industry attract, develop and retain the talented people it needs to keep the engine turning. People who connect through high-profile events and gain recognition from prestigious awards. People who rely on SSPI for a broader understanding of the industry as much as for individual networking and career mentoring. From young people seeking a career path to industry veterans with wisdom to share, SSPI connects them all.
Talent, investment and opportunity flow to industries that make a difference. SSPI is the only organization that also promotes the enormous value of space and satellite through dramatic stories of our technologies and companies making a better world. Those stories overturn misconceptions about the industry that hold it back. They inspire our people and attract new ones to the industry. They help justify investment and give new customers a reason to care about our services and products. Through the stories we tell and the people we serve, SSPI inspires the growth of the $1 trillion space economy of the future.

For More Information
Victoria Krisman
Communications Manager
Space & Satellite Professionals International
vkrisman@sspi.org
---