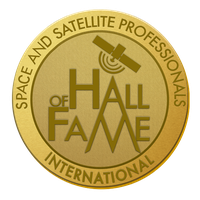 (November 23, 2021 – New York City) – Space & Satellite Professionals International (SSPI) today opened nominations for the 21st Induction to the Space & Satellite Hall of Fame. The new Inductees will be honored at the Hall of Fame Celebration on March 22, 2022, hosted by K&L Gates. Nominations are due by January 31, 2022.
The Space & Satellite Hall of Fame recognizes the invaluable contributions of the visionaries who have transformed life on planet Earth for the better through space & satellite technology. Members of the Hall of Fame are recognized pioneers in communications, satellite-related aerospace, scientific research, or the development and delivery of applications for business, institutions and government via space and/or satellite. They include Kathryn Lueders of NASA, Steve Collar of SES, Greg Wyler of OneWeb, Gwynne Shotwell of SpaceX, Tory Bruno of ULA, James Monroe III of Globalstar, John Celli of Space Systems Loral, David Thompson of Orbital ATK and Mark Dankberg of ViaSat as well as pioneers like Dr. John Pierce, Eddy Hartenstein, Rene Anselmo and Dr. Harold Rosen.
"The Hall of Fame focuses the industry's attention on the transformative power of leadership," said executive director Robert Bell. "It honors people who have built strong organizations that make indispensable contributions to human welfare while serving their customers and shareholders. That is a remarkable combination."
Nomination forms may be found on SSPI's website.

About SSPI
Founded in 1983, Space & Satellite Professionals International (www.sspi.org) is on a mission to make the space and satellite industry one of the world's best at attracting and engaging the talent that powers innovation. With more than 3,700 members in 40 nations, it is the largest space and satellite industry association in the world. It delivers on its mission through programs that promote space and satellite as the invisible but indispensable infrastructure of the modern world, and that help turn individual promise into careers filled with purpose through research, career education for young people, management education for working professionals and talent recognition that spans the industry.

For More Information
Victoria Krisman
Communications Manager
Space & Satellite Professionals International
vkrisman@sspi.org
---