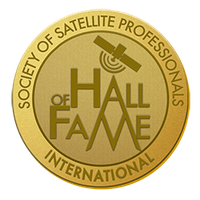 New York City, November 4, 2016 – The Society of Satellite Professionals International (SSPI) today opened nominations for the 16th Induction to the Satellite Hall of Fame. The new Inductees will be honored at SSPI's annual Hall of Fame Benefit Dinner on March 7, 2017, on the first night of the SATELLITE 2017 conference in Washington, DC. Nominations are due by December 9, 2016.

The SSPI Hall of Fame recognizes the invaluable contributions of the visionaries who have transformed life on planet Earth for the better through satellite technology. Members of the Hall of Fame are recognized pioneers in communications, satellite-related aerospace, scientific research, or the development and delivery of applications for business, institutions and government via satellite. They include John Celli of Space Systems Loral, David Thompson of Orbital ATK and Mark Dankberg of ViaSat as well as pioneers like Rene Anselmo, Eddy Hartenstein, Dr. Harold Rosen and Dr. Arthur C. Clarke.

"In 2017, we will focus on the power of satellite – and the most innovative leaders in the satellite industry – to save lives, improve lives and enrich the next generation," said executive director Robert Bell. "Social media is fun. Video messaging is cool. Texting and tweeting keep you connected. But the newest members of the Satellite Hall of Fame will be people whose contributions help to meet the most fundamental needs of the world's people."

Click here for more information about the SSPI Satellite Hall of Fame, or to download a nomination form.

The SSPI Satellite Hall of Fame
Induction into the Hall of Fame will be based on a record of significant achievement in organizations that develop, operate and/or use satellite technology to achieve their mission. The Awards selection committee particularly favors achievements with lasting value such as:
The successful introduction of new or improved technologies or services

The creation of new businesses, business models or markets

Contributions to long-term organizational growth

The solution of new types of problems using satellite technology
Service to the industry through education, legal and regulatory advances and related contributions is also honored through the Hall of Fame.

About SSPI
Founded in 1983, the Society of Satellite Professionals International (www.sspi.org) is on a mission to make the satellite industry one of the world's best at attracting and engaging the talent that powers innovation. With more than 4,000 members in +40 nations, it is the largest satellite industry association in the world. It delivers on its mission through a portfolio of programs:
Next Generation – Staging competitions and sharing information with university students to excite them about careers in satellite.
Leaders Quest – Identifying and honoring present and future leaders as models for the industry to follow.
New Century Workforce – Engaging talent management executives in the satellite company executives in improving hiring and retention practices and winning the industry's fair share of the world's best and brightest.
Better Satellite World – Promoting the immense contributions of satellite to commerce, education, communication and human welfare.

For More Information
Matthew Owen
Communications Manager
Society of Satellite Professionals International
mowen@sspi.org
212-825-0218 x105
---