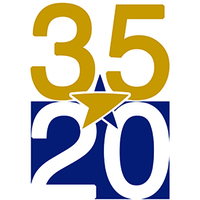 (September 25, 2019 – New York City) – The Space & Satellite Professionals International (SSPI) today announced the second annual "20 Under 35" list of outstanding young space and satellite professionals under the age of 35. The honorees will be celebrated at SSPI's Future Leaders Dinner on October 8 during Satellite Innovation 2019 in Mountain View, California.
SSPI's annual list of "20 Under 35" features 20 employees and entrepreneurs to keep your eye on in coming years. They were selected from nominations submitted by the membership. At the Future Leaders Dinner, the three top-ranked members of the 20 Under 35 will be named as this year's Promise Award winners.
"There is justifiable concern in our industry about our ability to attract and retain talented and ambitious young people, at a time when we compete for employees with the best-known names in technology," said executive director Robert Bell. "The 20 Under 35 list is a chance to recognize the power of our mission to inspire the next generation to join us. That mission is about doing business, of course, but also about making the world more prosperous, better informed, safer and stronger. These 20 people are on their way to remarkable achievement that we hope to honor some day with membership in the Space & Satellite Hall of Fame."

The 20 Under 35 of 2019:
Daniel Alvarez, Space Mission Program Manager, Millennium Space Systems, A Boeing Company
Chris Beauregard, Policy Advisor, National Space Council
Gaurav Bhatia, Principal Engineer, Hughes Network Systems
Dr. Nikita Chiu, Ad Astra Distinguished Fellow in Robotic and Outer Space Governance, Space Engineering Research Center
Ryan Clulo, Freedom Software Engineer, ATLAS Space Operations
Lindsay Crossan, O3b Requirements & Verification Systems Engineering Lead, The Boeing Company
Dr. Ashwati Das, Systems Engineer, Jet Propulsion Laboratory
Clémentine Decoopman, Executive Director, Space Generation Advisory Council
Guillermo Del Rio, Infrastructure Coordinator, Elara Comunicaciones
Isil Demir, Director, Mission Systems, Planet Labs Inc.
Julian Horvath, Principal Engineer, Satellite Operations & Ground Development, Iridium
Sajit Jumani, Vice President, Business Development and Finance, GEOshare
Natalia Larrea Brito, Senior Affiliate Consultant, Euroconsult
Jomya Lei, Lead Payload Systems Engineer, The Boeing Company
Joao Lousada, ISS Columbus Operations Systems Engineer - STRATOS Flight Controller, GMV Insyen AG
Andrea Marin, Principal Business Solutions Engineer, Intelsat
Adam Milewich, Satellite Engineer, Innovation Team, Intelsat
Abiodun Ogunbiyi, President, CEO, Founder and Engineer, Aerospace Palace International
Manny Shar, Head of Analytics, Bryce Space & Technology, Ltd.
Jeremy Turpin, CTO & Co-Founder, Isotropic Systems
Full profiles of the 20 Under 35 can be found on SSPI's Website.

About SSPI
Founded in 1983, Space & Satellite Professionals International (www.sspi.org) is on a mission to make the space and satellite industry one of the world's best at attracting and engaging the talent that powers innovation. With more than 3,700 members in 40 nations, it is the largest space and satellite industry association in the world. It delivers on its mission through programs that promote space and satellite as the invisible but indispensable infrastructure of the modern world, and that help turn individual promise into careers filled with purpose through research, career education for young people, management education for working professionals and talent recognition that spans the industry.

For More Information
Victoria Krisman
Communications Manager
Space & Satellite Professionals International
vkrisman@sspi.org
---