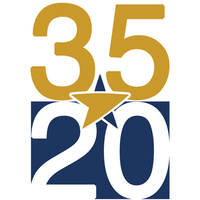 (October 10, 2018 – New York City and Mountain View, CA) - The Space & Satellite Professionals International (SSPI) has announced the first annual "20 Under 35" list of outstanding young professionals under the age of 35. The announcement was made at SSPI's Future Leaders Dinner last night at Satellite Innovation 2018 in Mountain View, California.
SSPI's annual list of "20 Under 35" features 20 employees and entrepreneurs to keep your eye on in coming years. They were selected from nominations submitted by the membership and evaluated by the same panel of judges who name winners of the Promise Awards. They represent, quite simply, the best of us in the years ahead.
"The young executives on our 20 Under 35 list work for both established leaders and daring innovators in the industry," said SSPI executive director Robert Bell. "They come from many different nations and different disciplines. What they have in common is a track record of achievement that is remarkable for people in the first decade of their careers, and a commitment to excellence second to none."
The 20 Under 35 of 2018 are:
Full profiles of the 20 Under 35 can be found on SSPI's Website. SSPI's 20 Under 35 program is sponsored by Boeing.

About SSPI
Founded in 1983, Space & Satellite Professionals International (www.sspi.org) is on a mission to make the space and satellite industry one of the world's best at attracting and engaging the talent that powers innovation. With more than 3,700 members in 40 nations, it is the largest space and satellite industry association in the world. It delivers on its mission through programs that promote space and satellite as the invisible but indispensable infrastructure of the modern world, and that help turn individual promise into careers filled with purpose through research, career education for young people, management education for working professionals and talent recognition that spans the industry.

For More Information
Matthew Owen
Communications Manager
212-809-5199 x105
mowen@sspi.org
---