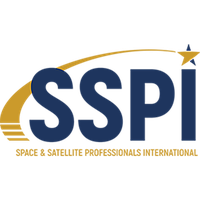 (New York City, March 19, 2020) – Space & Satellite Professionals International (SSPI) today welcomed five new and renewing Corporate Members of the association. The companies represent nearly every sector of the space and satellite industry and include Eutelsat, MAXAR, Northrop Grumman Innovation Systems, RKF Engineering, ST Engineering iDirect and The SPACECONNECTION. Click here for a list of SSPI's corporate members.
SSPI corporate members enjoy a wide array of benefits that include unlimited membership for all employees, subscriptions to SSPI video and podcast content, free access to reports on talent development, tickets for free admission to SSPI events, a corporate profile on the SSPI site, and a 30% discount on sponsorship of SSPI events and content.
"At a time of fast market change, we are very grateful for the broad-based support that SSPI's programs receive across our industry," said executive director Robert Bell. "Whether it is talent attraction and development or evangelizing for the importance of our industry to the world, SSPI's mission is fundamental to the continued growth of commercial space and satellite into the $1 trillion space economy of the future."

About SSPI
Founded in 1983, Space & Satellite Professionals International (www.sspi.org) is on a mission to make the space and satellite industry one of the world's best at attracting and engaging the talent that powers innovation. The space and satellite business has never seen a time of greater experimentation and disruption than we see today. Investment is the fuel for transformation, but people are the engine. SSPI helps the industry attract, develop and retain the talented people it needs to keep the engine turning. People who connect through high-profile events and gain recognition from prestigious awards. People who rely on SSPI for a broader understanding of the industry as much as for individual networking and career mentoring. From young people seeking a career path to industry veterans with wisdom to share, SSPI connects them all.
Talent, investment and opportunity flow to industries that make a difference. SSPI is the only organization that also promotes the enormous value of space and satellite through dramatic stories of our technologies and companies making a better world. Those stories overturn misconceptions about the industry that hold it back. They inspire our people and attract new ones to the industry. They help justify investment and give new customers a reason to care about our services and products. Through the stories we tell and the people we serve, SSPI inspires the growth of the $1 trillion space economy of the future.

For More Information
Victoria Krisman
Communications Manager
Space & Satellite Professionals International
vkrisman@sspi.org
---