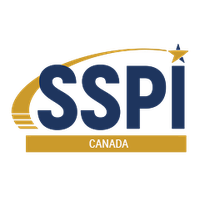 (New York City, October 7, 2020) – Space & Satellite Professionals International (SSPI) today announced the launch of the New SSPI Canada chapter. SSPI is an international professional development society serving professionals in the satellite communications industry. Through the establishment of local chapters, SSPI furthers the mission of the society at the regional level by providing members with the opportunity to advance their careers through information sharing, outreach and professional networking.
The mission of the SSPI Canada Chapter is to stimulate the growth of the satellite industry in Canada and to expand the research, innovation and development of the industry by attracting world-class talent and promoting the development of satellite professionals. To fulfill our mission, the SSPI Canada chapter is also linked with several of our fellow members in a variety of industrial bodies, educational institutions and government organizations.
"SSPI Canada will become one of our most important chapters and we are excited about this new branch of the SSPI tree. The innovation taking place in Canada and the talent produced by its companies and schools is contributing to a fast-growing industry, a better world and the infrastructure being built to take human beings into space permanently. We are confident this chapter will make a significant contribution." Lou Zacharilla, Director of Innovation, SSPI.
Cristi Damian, VP Business Development at Advantech Wireless Technologies and SSPI Canada Chapter President said, "Canada has a long and outstanding heritage in development of Space and Satellite technologies. We designed and operated our own satellites dating as far back as 1962 – satellites that presented great performance and a remarkably long service life. The Canadian expertise is currently growing in the fields that cover LEO, MEO and GEO satellites, Space Robotics, Sensors, 5G and Artificial Intelligence.
"We are extending an invitation to all of our Canadian colleagues, partners, and customers to join our newly formed SSPI Canadian chapter. Let's all bring together our expertise, knowledge and innovation capabilities to solve today's technological challenges – and to learn from one another by working in concert. Together, we can address complex, multidimensional projects, achieve excellence in our respective fields and promote Canada's Space knowhow and outstanding reputation to the rest of the world."
Vagan Shakhgildian, CEO at UHP Networks said, "I feel honoured to be part of the founding Board of the SSPI Canada Chapter. These are challenging times, but also very exciting times in the industry, with the names of Canadian-based projects such as Telesat LEO, Kepler and others resonating throughout the world . We look forward to working with all the present and future space and satellite professionals across Canada, from coast to coast. Our collective task will be to foster the spirit of creativity and exploration, which has been driving our community forward since the early days of space activities in the country."
"The launch of SSPI's Canadian Chapter is a fantastic opportunity to build new and strengthen existing relationships within the Canadian space ecosystem. We are really excited not only to be a founding member of this new Chapter, but to get the opportunity to work with people across our country to help build this great community," said Jeffrey R. Osborne, Co-founder & VP Business Development, Kepler Communications.
Join Advantech Wireless Technologies, Kepler Communications, UHP Networks and the Space & Satellite Professionals International (SSPI) at the Webinar: Opportunities and Challenges for New LEO Constellations. Thursday October 29th 2020 at 11am EST.
For more details visit the SSPI Canada chapter page.

About SSPI
Founded in 1983, Space & Satellite Professionals International (www.sspi.org) is on a mission to make the space and satellite industry one of the world's best at attracting and engaging the talent that powers innovation. The space and satellite business has never seen a time of greater experimentation and disruption than we see today. Investment is the fuel for transformation, but people are the engine. SSPI helps the industry attract, develop and retain the talented people it needs to keep the engine turning. People who connect through high-profile events and gain recognition from prestigious awards. People who rely on SSPI for a broader understanding of the industry as much as for individual networking and career mentoring. From young people seeking a career path to industry veterans with wisdom to share, SSPI connects them all.
Talent, investment and opportunity flow to industries that make a difference. SSPI is the only organization that also promotes the enormous value of space and satellite through dramatic stories of our technologies and companies making a better world. Those stories overturn misconceptions about the industry that hold it back. They inspire our people and attract new ones to the industry. They help justify investment and give new customers a reason to care about our services and products. Through the stories we tell and the people we serve, SSPI inspires the growth of the $1 trillion space economy of the future.
For More Information
Victoria Krisman
Communications Manager
Space & Satellite Professionals International
vkrisman@sspi.org
---