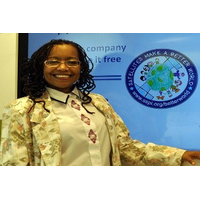 Pssst!
I want to let you in on a secret. Seriously. Come closer. Ready? Here it is: YOU can take charge of your own career.
Okay - not that big of a secret, really. We've known this for a long time. There are are even books about it! But every industry is different, so to take charge in your industry, you have to look for the opportunities your industry provides. In the satellite industry, one such opportunity is the SSPI Future Leaders Dinner. Each year, three amazing professionals ages 35 and under are recognized with the Promise Award, which says to industry, "My supervisory team believes in me and thinks I have what it takes to be a leader in this industry."
This year we've opened the door for YOU to take the lead. YOU can reach out to your supervisor, direct reports (if you have any), external partners, peers and mentors, and ask for their feedback in support of your own nomination for this prestigious award. The feedback you get will help spur your future development - there's just no downside to participating in the process!
I'm asking you to take a chance on yourself. Step out on faith and participate. You'll get invaluable feedback. You'll get helpful guidance for career path planning. You'll find and cultivate mentors: a necessary component to future success. You'll build relationships in the industry beyond just the workday relationships you already have. And you just might find yourself on stage on October 17th, thanking everyone for their help on your journey.
SO . . . not much of a secret, true! But I hope it's a well-received nudge in the right direction.
The 2017 SSPI Future Leaders Dinner will be held on October 17, 2017. To learn more about the self nominating process, visit: https://www.surveymonkey.com/r/2017PromiseCandidateForm.
---