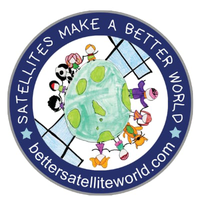 (March 3, 2022 – New York City) – Space & Satellite Professionals International (SSPI) today released Powering Through the Pandemic, a new Better Satellite World video. It tells the story of how the oil and gas industry responded to plunging prices during the first years of the pandemic by doubling down on IT and the satellite links that connect offshore platforms and isolated wellheads to office operations. Powering Through the Pandemic is made possible by funding from ITC Global.
"We might all like to wave a magic wand and remove hydrocarbons from our energy supply tomorrow," said executive director Robert Bell. "But the truth is that the transition to zero emission energy production will fail if energy markets are disrupted too much by price shocks and shortages. The satellite industry has a critical role to play in helping producers maintain adequate supplies more efficiently and flexibly while investment in alternative energy races to meet our needs."
Despite global investments in alternative energy, the world still depends on fossil fuels for 80% of its energy needs. The companies that make their living supplying those needs were hit hard as profit turned to massive loss. They cut jobs and budgets. But they also needed to keep producing – and find cheaper and better ways to do it.
Today, an industry that began with picks and shovels in the 1800s is all about data. It comes from seismic studies, from sensors down the well and in every part of the operation. To carry their data, oil and gas companies turn to satellite – because they operate in remote regions and offshore, where they have to bring their communications with them. They get satellite services from companies like ITC Global – but in the COVID downturn, they needed much more than a satellite link. They needed to bring new technology to their rigs for remote monitoring, predictive maintenance and troubleshooting. More technology meant much more data flowing through the network to deliver real-time insights into production. And it all had to get done with fewer people and tighter budgets.
You can watch Powering Through the Pandemic on SSPI's website and on Youtube.
About the Better Satellite World Campaign
The modern world literally runs on satellite – from data networks and TV to Internet, agriculture, energy and transport – though far too few people know it. The commercial satellite industry is now attracting a new generation of entrepreneurs and investors dedicated to lowering launch costs, downsizing spacecraft, servicing them in orbit and delivering ubiquitous connectivity at competitive prices. The Better Satellite World campaign shows the world why our industry, though often invisible, is indispensable to modern life, through powerful stories and videos that depict space and satellite technologies contributing to the economy, society and sustainability of planet Earth. More at www.bettersatelliteworld.com.
About SSPI
Founded in 1983, Space & Satellite Professionals International (www.sspi.org) is on a mission to make the space and satellite industry one of the world's best at attracting and engaging the talent that powers innovation. The space and satellite business has never seen a time of greater experimentation and disruption than we see today. Investment is the fuel for transformation, but people are the engine. SSPI helps the industry attract, develop and retain the talented people it needs to keep the engine turning. People who connect through high-profile events and gain recognition from prestigious awards. People who rely on SSPI for a broader understanding of the industry as much as for individual networking and career mentoring. From young people seeking a career path to industry veterans with wisdom to share, SSPI connects them all.
Talent, investment and opportunity flow to industries that make a difference. SSPI is the only organization that also promotes the enormous value of space and satellite through dramatic stories of our technologies and companies making a better world. Those stories overturn misconceptions about the industry that hold it back. They inspire our people and attract new ones to the industry. They help justify investment and give new customers a reason to care about our services and products. Through the stories we tell and the people we serve, SSPI inspires the growth of the $1 trillion space economy of the future.
For More Information
Victoria Krisman
Communications Manager
Space & Satellite Professionals International
vkrisman@sspi.org
---