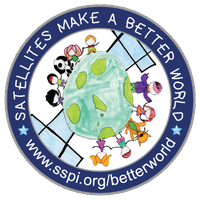 (July 14, 2022 – New York City) – Space & Satellite Professionals International (SSPI) today released Nature's Internet, its newest Better Satellite World video. It tells the story of how satellite data helps protect the natural world from human impact and people from the many dangers of the natural world. Nature's Internet is made possible by funding from Iridium Communications, Inc.
The video explains that the beauty of nature can quickly turn dangerous, and the way we live on planet Earth keeps raising the risks. Our planet is vulnerable in ways we never imagined a few decades ago, and satellite has answers.
In the fight to protect endangered species, animal tracking collars send signals into space that help us fight poaching and learn more about the unique needs of each species. Out to sea, autonomous vessels gather weather data, identify illegal fishing and watch for signs of climate change. The information they gain is vital to science, to the environment and our safety. Autonomous underwater vehicles monitor the health of the oceans, map the sea floor and search for wreckage. Deep in forests, sensors monitor weather and soil for conditions that lead to wildfires. We avoid catastrophe much of the time thanks to this data transmitting warnings from orbiting satellites.
"The invisible but indispensable infrastructure of the satellite industry makes possible thousands of different applications that make our world better," said executive director Robert Bell. "Working with Iridium, we were able to focus on satellite data transmission applications that help preserve nature from human-caused climate change, while shielding us from nature's biggest dangers."
You can watch Nature's Internet on SSPI's website and on Youtube.

About the Better Satellite World Campaign
The modern world literally runs on satellite – from data networks and TV to Internet, agriculture, energy and transport – though far too few people know it. The commercial satellite industry is now attracting a new generation of entrepreneurs and investors dedicated to lowering launch costs, downsizing spacecraft, servicing them in orbit and delivering ubiquitous connectivity at competitive prices. The Better Satellite World campaign shows the world why our industry, though often invisible, is indispensable to modern life, through powerful stories and videos that depict space and satellite technologies contributing to the economy, society and sustainability of planet Earth. More at www.bettersatelliteworld.com.

About SSPI
Founded in 1983, Space & Satellite Professionals International (www.sspi.org) is on a mission to make the space and satellite industry one of the world's best at attracting and engaging the talent that powers innovation. The space and satellite business has never seen a time of greater experimentation and disruption than we see today. Investment is the fuel for transformation, but people are the engine. SSPI helps the industry attract, develop and retain the talented people it needs to keep the engine turning. People who connect through high-profile events and gain recognition from prestigious awards. People who rely on SSPI for a broader understanding of the industry as much as for individual networking and career mentoring. From young people seeking a career path to industry veterans with wisdom to share, SSPI connects them all.
Talent, investment and opportunity flow to industries that make a difference. SSPI is the only organization that also promotes the enormous value of space and satellite through dramatic stories of our technologies and companies making a better world. Those stories overturn misconceptions about the industry that hold it back. They inspire our people and attract new ones to the industry. They help justify investment and give new customers a reason to care about our services and products. Through the stories we tell and the people we serve, SSPI inspires the growth of the $1 trillion space economy of the future.

For More Information
Victoria Krisman
Communications Manager
Space & Satellite Professionals International
vkrisman@sspi.org
---