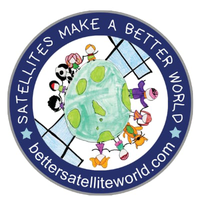 (November 2, 2021 – New York City) – Space & Satellite Professionals International (SSPI) today released How Space Saves Lives, its newest Better Satellite World video. Aimed at middle and senior high school students, the video explains how satellite technology brings us not only food and education but also invaluable data for navigation, surveillance and disaster response that helps save lives around the world every day.
How Space Saves Lives is the third in a video series, sponsored by Hunter Communications, that aims to teach the next generation of space enthusiasts about the role satellites play in everyday life. The first two videos in the series: The Road to Space and Is There a Satellite Inside? are available to watch on SSPI's website.
"We are grateful to Hunter Communications for proposing this series of educational videos and funding their production," said executive director Robert Bell. "There is a ton of STEM and STEAM content out there but remarkably little of it covers the real-world commercial industry that is building a growing space economy. When kids get excited about space, we want them to think of us first, and these three videos are our contribution."
How Space Saves Lives debuted at the 2021 SSPI Chairman's Reception in Washington DC. You can watch the video on SSPI's website and on Youtube.

About SSPI
Founded in 1983, Space & Satellite Professionals International (www.sspi.org) is on a mission to make the space and satellite industry one of the world's best at attracting and engaging the talent that powers innovation. The space and satellite business has never seen a time of greater experimentation and disruption than we see today. Investment is the fuel for transformation, but people are the engine. SSPI helps the industry attract, develop and retain the talented people it needs to keep the engine turning. People who connect through high-profile events and gain recognition from prestigious awards. People who rely on SSPI for a broader understanding of the industry as much as for individual networking and career mentoring. From young people seeking a career path to industry veterans with wisdom to share, SSPI connects them all.
Talent, investment and opportunity flow to industries that make a difference. SSPI is the only organization that also promotes the enormous value of space and satellite through dramatic stories of our technologies and companies making a better world. Those stories overturn misconceptions about the industry that hold it back. They inspire our people and attract new ones to the industry. They help justify investment and give new customers a reason to care about our services and products. Through the stories we tell and the people we serve, SSPI inspires the growth of the $1 trillion space economy of the future.

For More Information
Victoria Krisman
Communications Manager
Space & Satellite Professionals International
vkrisman@sspi.org
---