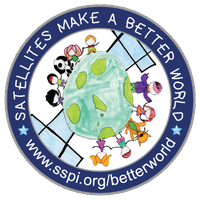 (February 7, 2023 – New York City) – Space & Satellite Professionals International (SSPI) today released Path to the Good Life, its newest video in the Better Satellite World campaign. It tells the story of how Francisco Licuy, a schoolteacher in rural Ecuador, brought the educational wealth broadband internet access to his students through satellite, delivered by HughesNet.
For the eight billion people on planet Earth, in rich countries and poor, education is the key to a good life. But without access to the internet, a quality education is hard to come by. In Latin America, broadband reaches only half as many subscribers as it does in North America and Europe. That gap denies students the education they need for today's jobs, and robs businesses of the skilled people their success should depend on.
Companies like Hughes are doing something about it, connecting millions of people to the internet with satellite. And remote villages are not the only places falling into the broadband gap. None of the eleven high schools in Callao, Peru's chief seaport and airport, had internet access. Frustrated parents bought pre-paid cellphones just so their children could go online. HughesNet service installed at each school changed everything by allowing the schools to download educational content to their computers, and students and staff to connect to it through Wi-Fi. Without the expense of individual internet accounts, the students gained access to 60,000 books on over 25 million topics, refreshed regularly from internet downloads.
"The smart use of satellite is bringing schools online that might never have gained access," said executive director Robert Bell, "and doing it at a cost that governments in these nations can afford. That is bringing the good life closer for billions of people. We're grateful to Hughes Network Services for helping us tell that story."
You can watch Path to the Good Life on SSPI's website and on Youtube. The video was made possible by funding from Hughes Network Systems.

About SSPI
Founded in 1983, Space & Satellite Professionals International (www.sspi.org) is on a mission to make the space and satellite industry one of the world's best at attracting and engaging the talent that powers innovation. The space and satellite business has never seen a time of greater experimentation and disruption than we see today. Investment is the fuel for transformation, but people are the engine. SSPI helps the industry attract, develop and retain the talented people it needs to keep the engine turning. People who connect through high-profile events and gain recognition from prestigious awards. People who rely on SSPI for a broader understanding of the industry as much as for individual networking and career mentoring. From young people seeking a career path to industry veterans with wisdom to share, SSPI connects them all.
Talent, investment and opportunity flow to industries that make a difference. SSPI is the only organization that also promotes the enormous value of space and satellite through dramatic stories of our technologies and companies making a better world. Those stories overturn misconceptions about the industry that hold it back. They inspire our people and attract new ones to the industry. They help justify investment and give new customers a reason to care about our services and products. Through the stories we tell and the people we serve, SSPI inspires the growth of the $1 trillion space economy of the future.

For More Information
Victoria Krisman
Communications Manager
Space & Satellite Professionals International
vkrisman@sspi.org
---