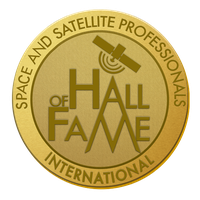 (February 25, 2021 – New York City) - Space & Satellite Professionals International (SSPI) announced today that, on March 23, it will induct four new members into the prestigious Space & Satellite Hall of Fame.
The 2021 honorees are Peter B. de Selding, Co-Founder and Chief Editor for SpaceIntelReport; Kathy Lueders, Associate Administrator for Human Exploration and Operations Mission Directorate at NASA; Jim Oliver, Founder and President of AvL Technologies; and Dr. Gladys West, former mathematician at the Naval Proving Ground in Dahlgren, Virginia.
They will join the leaders who created, sustained and expanded the industry over the past 60 years, including Dr. Arthur C. Clarke, Dr. Harold Rosen, Rene Anselmo, Takuya Yoshida, David Thompson, Greg Wyler, Mary Cotton, Romain Bausch, Pradman Kaul, Sidney Topol, Gwynne Shotwell, John Celli, Giuliano Berretta, Mark Dankberg, James Monroe III, Steve Collar, Peter Jackson and Jean-Yves Le Gall.
"This year's inductees represent the most diverse group of individuals to ever enter the industry's Hall of Fame," said executive director Robert Bell. "They include a NASA official who opened the agency to unprecedented commercial partnerships, an entrepreneur with decades of technical innovation in ground segment to his name, a renowned journalist and a mathematician whose work made possible today's satellite navigation systems."
The latest members of the Space & Satellite Hall of Fame will be inducted during the 2021 Hall of Fame Celebration virtual ceremony on March 23. The inductees were selected by SSPI's Board of Directors under the leadership of SSPI Chair Thomas Van Den Driessche, President of the Executive Strategy Board and CCO of ST Engineering iDirect, and SSPI President Nicole Robinson, CEO of URSA Space Systems.
The Space & Satellite Hall of Fame recognizes the invaluable contributions of the visionaries who transform life on planet Earth for the better through space and satellite technology. Members of the Hall of Fame are recognized pioneers in communications, aerospace, scientific research, or the development and delivery of space and satellite applications for business, institutions and government.
The 2021 Space & Satellite Hall of Fame Inductees:
Peter B. de Selding
Co-Founder and Chief Editor, SpaceIntelReport
Peter B. de Selding delivered more than 20 years of incisive coverage of the commercial space and satellite industry as Paris bureau chief of SpaceNews before co-founding SpaceIntelReport and becoming Chief Editor. His reporting has broken many major stories in the industry and never hesitated to tackle controversies, reveal conflicts of interest and hold business leaders accountable for their decisions.

Kathy Lueders
Associate Administrator for Human Exploration and Operations Mission Directorate, NASA
Kathy Lueders has spent her career leading efforts at NASA to integrate commercial launch into NASA's human space exploration mission. From her service as Commercial Orbital Transportation Services Integration Manager to her current appointment as Associate Administrator for Human Exploration, she has worked to bring critical commercial technology, practices and cost savings to NASA. Most recently, Kathy spent seven years working with SpaceX, Northrop Grumman and Boeing to bring about commercial resupply missions to the International Space Station and make NASA's first venture into commercial human spaceflight possible with the SpaceX Crew-1 flight in November of 2020.

Jim Oliver
Founder and President, AvL Technologies
Jim Oliver is an inventor and entrepreneur with a proven record of achievement in ground segment technology. He has made major contributions to freeing satellite ground systems from fixed locations throughout his career, from his work at SatCom Technologies--where he led the introduction of innovative technologies for fixed and truck-mounted antennas--to the creation at AvL of high-accuracy pointing technologies for small portable antennas for commercial and military use. Jim's technological contributions have greatly expanded the applications for satellite communications in ways that save lives and expand opportunities for millions.

Dr. Gladys West
Former Mathematician, Naval Proving Ground, Dahlgren, VA
Dr. Gladys West served as a mathematician at the Naval Proving Ground (now the Naval Surface Warfare Center) in Dahlgren, VA for 42 years before retiring in 1998. From the mid-1970s to 1980s, she worked as Project Manager for the Seasat radar altimetry project, which made pioneering use of an IBM 7030 computer to provide calculations for an accurate geodetic Earth model. This model became a critical building block for the GPS satellite orbital plan and the immense range of benefits that GPS has delivered to humanity since then.
Full profiles of the 2021 inductees to the Space & Satellite Hall of Fame will be available shortly on SSPI's website.

About SSPI
Founded in 1983, Space & Satellite Professionals International (www.sspi.org) is on a mission to make the space and satellite industry one of the world's best at attracting and engaging the talent that powers innovation. The space and satellite business has never seen a time of greater experimentation and disruption than we see today. Investment is the fuel for transformation, but people are the engine. SSPI helps the industry attract, develop and retain the talented people it needs to keep the engine turning. People who connect through high-profile events and gain recognition from prestigious awards. People who rely on SSPI for a broader understanding of the industry as much as for individual networking and career mentoring. From young people seeking a career path to industry veterans with wisdom to share, SSPI connects them all.
Talent, investment and opportunity flow to industries that make a difference. SSPI is the only organization that also promotes the enormous value of space and satellite through dramatic stories of our technologies and companies making a better world. Those stories overturn misconceptions about the industry that hold it back. They inspire our people and attract new ones to the industry. They help justify investment and give new customers a reason to care about our services and products. Through the stories we tell and the people we serve, SSPI inspires the growth of the $1 trillion space economy of the future.
For More Information
Victoria Krisman
Communications Manager
Space & Satellite Professionals International
vkrisman@sspi.org
---