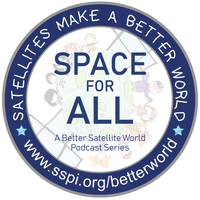 In this first episode of the Space for All podcast series, SSPI Director of Development and Innovation Lou Zacharilla speaks with Andre Jones, Vice President of Global Sales for the Antenna/RF Solutions business of Kratos Defense and Security Solutions and Felix Ejeckam, Ph.D., co-founder and CEO of Akash Systems. This podcast series focuses on the question of inclusion: exploring the ways in which we make space and satellite accessible as a service, as a technology and as an idea. Andre and Felix talk about how strong, capable leadership is a fundamental requirement to reach the goal of truly making "Space for All."
Andre Jones is currently the Vice President of Global Sales for the Antenna/RF Solutions business of Kratos Defense and Security Solutions. Andre has over 32 years of professional experience, including 27 years in satellite communications as an R&D engineer, satellite ground systems engineer, and business development leader. Before being acquired by Kratos, he served in a similar role at CPI Antenna Systems Division, and in senior roles at ViaSat, General Dynamics, and other leading industry firms. Andre holds bachelor's and master's degrees in electrical engineering from Florida Atlantic University and The Georgia Institute of Technology, respectively. He also earned an MBA from the Stetson School of Business and Economics at Mercer University, and Air Traffic Control certifications from Transports Canada Training Institute.
Felix Ejeckam, Ph.D. co-founded Akash Systems in January of 2016 and currently serves as CEO. He is a serial entrepreneur, electrical engineer and venture capitalist. Prior to Akash, Felix invented GaN-on-Diamond technology in 2003 at Group4 Labs, Inc. He was co-founder and CEO of Group4 Labs until 2013 when he sold the business to a De Beers business unit (Element Six Technologies). Prior to Group4, Felix was co-founder and CEO of venture-backed Nova Crystals, Inc., a developer and maker of next-generation semiconductor lasers and detectors for telecom and datacom markets. Felix began his career as a management consultant with McKinsey & Company, Inc. in 1997. He has published over 100 journal and conference papers and holds many patents. Felix has a Ph.D. in Electrical and Computer Engineering from Cornell University with a minor in Materials Science & Engineering.
The Space for All podcast series is sponsored by

SSPI's Better Satellite World campaign is made possible with the support of our corporate partners

---