Gala Benefit Dinner

The annual Gala Benefit dinner is SSPI's biggest fundraiser. The money we raise supports our membership, chapter and industry-support programs throughout the year. It is also the number-one place in our industry to see and be seen, and there are many ways to take advantage of that opportunity.  
Schedule
Chairman's Reception, 6:00-7:30 pm, Washington Convention Center, Room 201
Gala Reception, 6:30-8:00 pm, Washington Convention Center, Ballroom Foyer
Gala Dinner, 8:00-10:00, Washington Convention Center, Ballroom
Attend and Celebrate!
Buy a Dinner Table or Ticket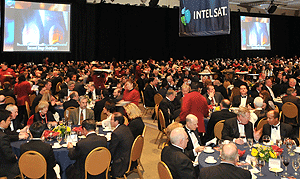 You can buy a table for eight or ten, or an individual seat at the SSPI Gala Benefit Dinner - which also includes the Reception. It is an outstanding opportunity to entertain honored guests at SATELLITE. Individual Members receive a ticket discount to the Dinner.  Order your table or tickets.
Buy a Reception Ticket
You can buy an individual ticket to attend the Gala Reception, taking place as the first day of SATELLITE 2015 draws to a close. The Reception takes place from 6:30 to 8:00 pm on the top floor of the Convention Center.  Order your tickets.  
Sponsor SSPI
SSPI is honored to have annual sponsorship from the leading companies in our industry. While supporting our work, they benefit from branding opportunities, free entry to the SSPI Gala Benefit dinner and other events and unlimited individual membership in our 4,000-strong professional network for their employees. See your sponsorship options.
Satellites Make a Better World
SSPI Gala 2015 marks the formal launch of SSPI's campaign to change the global conversation about satellite. It's a campaign called "How Satellites Make a Better World." Join us at SSPI Gala 2015 as we kick off our campaign and tell our industry how it can help to drive the change we need. Learn more.
Attending the Gala
Purchase Tables & Tickets
Chairman's Reception
A private, invitation-only reception for the C-Suite of the industry.  More
Hall of Fame Ceremony
Inducting new honorees at the conclusion of the Dinner.  More
Dress Code
Men: Business Suit, Dress Shirt and Tie
Women: Suit, business-style dress, dress with jacket or cocktail dress.
US Military Personnel: Service Dress Uniform